Add Your Vehicle
Add your vehicle to our app to view all your CarShield protection plan information in one convenient location.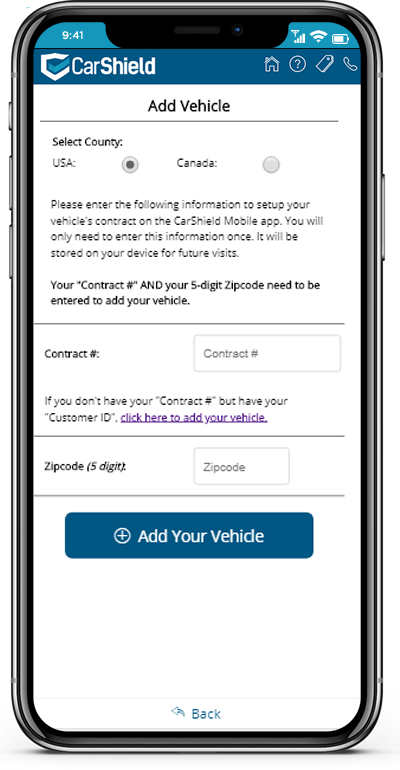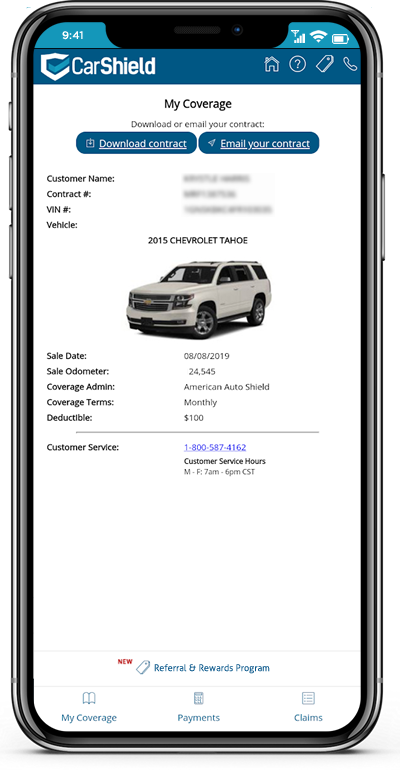 Coverage Details
View a breakdown of your coverage and get access to your contract 24/7 so you have it when you need it the most.
View / Download / Print Contract
View or print your contract anytime, so you have all your coverage details at your fingertips.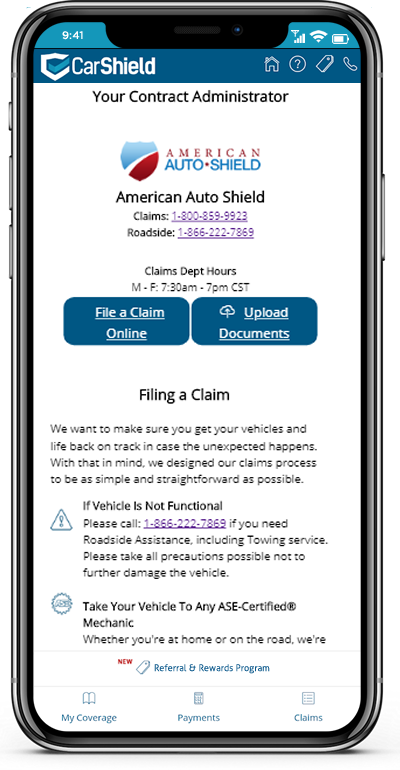 Claims / 24 HR Roadside
File a claim and upload important documents. You'll enjoy peace of mind knowing you'll have roadside assistance 24/7, anywhere your car breaks down.
Customer Support
Have a question, suggestion, or comment? We want to hear from you!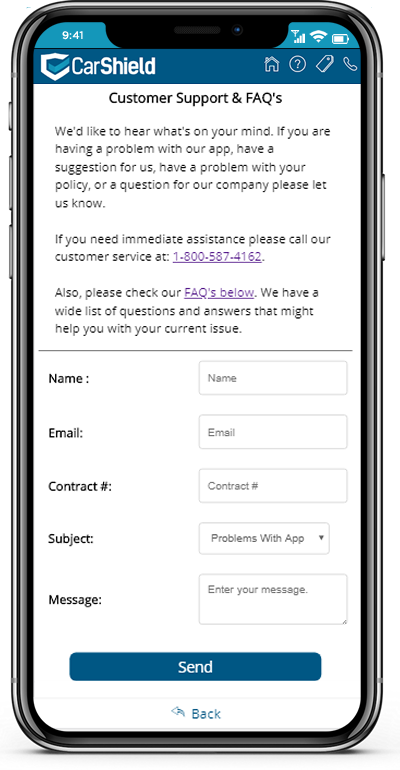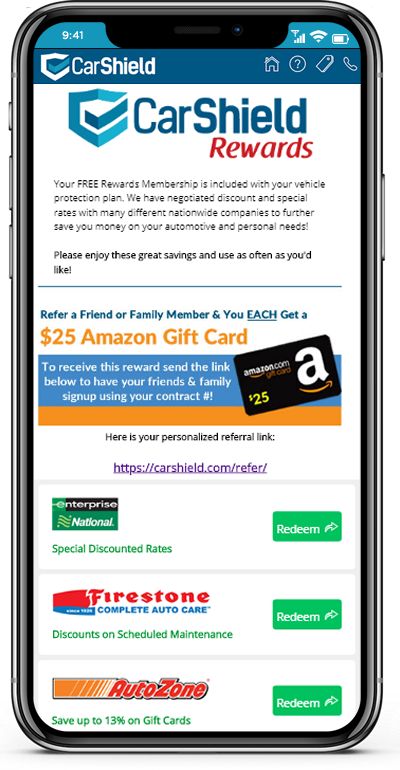 Exclusive Rewards
When you're a CarShield customer, you receive exclusive rewards such as discounts on rental cars, scheduled vehicle maintenance, and more!
Got questions? CarShield has you covered.
Need help? Check here for answers to some common questions about using the CarShield app.
What do I need to get started on the app?
First download the app, then, you'll need your contract number, and the zip code you used to set up your coverage.
How do I know if my claim was paid?
Contact
American Auto Shield
at
1-800-856-7584
and they'll be happy to assist you.
How do I get a copy of my contract?
On the "My Coverage" page, go to "Download Contract" or "Email Contract".
Can I make a payment from the CarShield app?
Yes, simply click on the "Payments" button and then click "Make a Payment" and follow the steps.
Do I have to have a CarShield account to use the app?
Yes, you will need to be an active CarShield customer to use the app.
What happens if I get a new vehicle?
Once you contact us and switch your coverage to the new vehicle, you can replace it on the app.
Is the app available on both Android and Apple?
Yes, you can download the app on Android or Apple products.
Can I file a claim from the app?
Yes! You can use the link in the app to call claims, or even file a claim online from the app!
Do I need to update the CarShield app?
When an update is available, you will need to update the CarShield app to get the newest features.