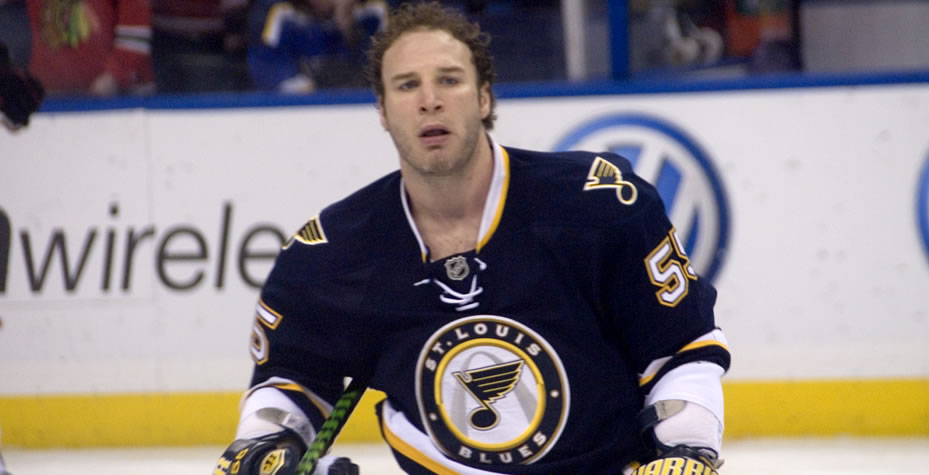 Cam Janssen Chats with CarShield
NHL veteran and current co-host of the Cam & Strick Podcast, Cam Janssen, took a break from making listeners laugh and taking them inside the NHL to answer some quick questions with CarShield.
Janssen's Car History and Vehicle Preferences
CARSHIELD: What was your first car growing up?
JANSSEN: Growing up, my favorite car was anything that was fast. My Dad bought me a 1991 5.0 Mustang. He put fat tires on the back of that thing when I was 16 years old—not a very smart decision. And it was red. And oh, it was fast and LOUD. I put an X pipe off the back of the muffler just to make it louder, just like I did everything. It was awesome. I made it as mean as possible, and then you roll up to your high school with one of the fastest cars in school. And at that time, that was the cool thing to do. It was only a '91, but that was my first car. I think I had it for like, a year before I blew it up. I know, I know funny stuff, but it's true. He bought me that and it was like Whoa. Thanks!
CARSHIELD: Are you a car guy or a truck guy? Why?
JANSSEN: I'm more of a truck guy. I don't like going fast anymore. I'm safe now. I drive slow. I don't like to get caught in snow. I like being up above people when I'm driving. I like to kind of rule the world of the road with a bigger vehicle. I feel safe in a bigger vehicle. So, yeah. I like trucks.
What Would Janssen Look for in a New Car?
CARSHIELD: What are you looking for when looking for a new car?
JANSSEN: I go for comfort and safety. I don't even have kids, and I still want safety. But I also want to be able to lounge in my chair since I drive all over the place. So yeah, I want something that I feel safe, but that I can also put my hockey bag and sticks in the back and not worry about tearing it up—you know the seats or anything like that—because I jam too much stuff in there. But really, I just want to be comfortable.
Gas mileage? Yeah, that matters, but I'd rather spend more money on gassing up a big truck. It's worth it to feel safe on the road. Plus, if things go down winter-wise, or any crazy weather, I'm ready to rock.
CARSHIELD: What is your favorite feature on your car?
JANSSEN: The gas pedal. It gets me around quick.
CARSHIELD: Well, that's kind of a contradiction though, from what you said earlier.
JANSSEN: Very much so, but the gas pedal still gets me around. Not very fast. I still drive slow, but the gas pedal in the truck is like the best thing because it gets me going. But also, seeing that I have a big truck, the best thing about it is just the freedom of moving it. Like I could throw my hockey bag in the back, or if I've got stuff to do around the house, like throwing mulch in the back, I can do that. And again, the safety aspect. That and if I need to carry a bunch of people or throw their hockey bags or sticks in, I've got it all taken care of. So, I guess the size of the truck is really my favorite part. That is unless I have to drive downtown and park it. That sucks.
What Would Janssen's Dream Car Be?
CARSHIELD: What feature do you wish your car had?
JANSSEN: Yeah, I wish it could fly.
When I'm stuck in traffic, I wish I could just press a button and fly over everything and just land right in my driveway. Like a self-driving, getting-the-heck-outta-here feature.
Or an Inspector Gadget button where when I press it, all of a sudden it goes up ten feet, and I can just drive over people. I don't know...something like that.
CARSHIELD: What is the most iconic car?
JANSSEN: Oh, you could get really, really detailed with this now. I guess the new Lamborghini SUV.
CARSHIELD: The Lamborghini Urus?
JANSSEN: Yeah. You see those bad boys yet? They're pretty sick. Tough, too.
I also like the old school Mercedes G Wagons. Those things are awesome. The G Wagon all blacked, or all white with black rims. Those are the coolest in my opinion. They are all class and they just glide.
CARSHIELD: All Class. That's great.
JANSSEN: Yeah, people always say "Oh he's changed. He's classy. He's on a podcast. He's class."
Actually, I'm very classy on there. Everybody goes pinky up with their earl grey tea when they listen.
Hear More from Cam Janssen
You can listen to Cam's podcast, The Cam & Strick Podcast, anytime on Apple Podcasts, Spotify, or any other podcasting platform.