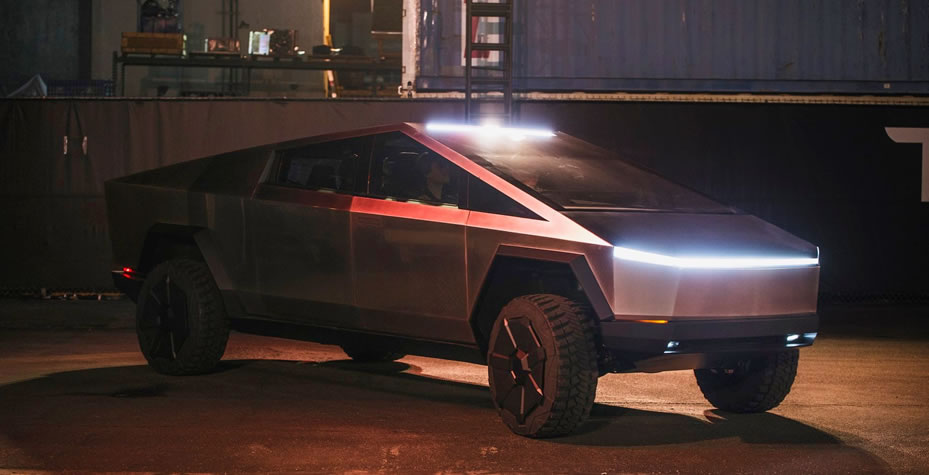 Editor's note: CarShield does not currently offer vehicle service contracts on Electric Trucks.
There are many EV Trucks on the market. CarShield helps answer which one is best for you.
After what feels like decades of promise, the electric car has finally arrived. And while that is exciting for many, what about those who need their pickup truck? Well, they are in luck because by next year there will be four great options to choose from.
Tesla Cyber Truck
Perhaps the most publicized and well-known entry on the list, The Cyber Truck, from Tesla, boasts "Better utility than a truck with more performance than a sports car".
That's quite a claim, and yet it seems that Tesla is ready to deliver when it comes to specs.
The base model features a single motor rear-wheel drive that offers a towing capacity of 7,500+ lbs of towing.
At that level, the Cyber Truck has a 0-60 mph speed of 6.5 seconds and EPA estimated range of 250+ miles.
Taking the options up is a dual-motor all-wheel-drive option that peps up the 0-60 mph to < 4.5 seconds. It also beefs up the towing capacity to 10,000 lbs+.
At the highest available level, the tri-motor all-wheel-drive option boasts supercar speeds of 0-60 mph in under 3 seconds, increases towing capacity to over 14,000 lbs.
The beefy specs are impressive, but the real eye-catching feature of this electric truck is the eccentric design.
It looks like something ripped from a video game set in the far future, but it's very real and will be available by next year with an exact date, yet to be set.
Though the look of the Cyber Truck is polarizing to hardcore truck enthusiasts, it appeals to the rabid Tesla fanbase. No matter how you feel about the aesthetic look of the truck, you can feel safe inside its thick skin.
The exterior of the Cyber Truck is aptly described as "a nearly impenetrable exoskeleton, every component is designed for superior strength and endurance, from Ultra-Hard 30x Cold-Rolled stainless steel structural skin to Tesla Armor glass."
With this truck, Tesla has apparently achieved strength, speed, and safety. An impressive feat.
As one of the more reasonably priced electric truck options, the Tesla Cyber Truck starts at $39,000.
Some deliveries will be made in 2021, but production is slated to ramp up in 2022.
Rivian R1T
Looking for an adventure truck that is between full size and mid-size and doesn't look like a sci-fi film one-off? Well, Rivian has the electric truck for you.
With a website that drips of the adventure lifestyle, Rivian seems to push the brand aspect over touting its performance. However, that doesn't mean this offering doesn't hold its own against the battery powered competition.
The Rivian R1T is propelled by a Quad-Motor that can deliver 0-60 mph in 3 seconds, and hauls a towing capacity of up to 11,000 lbs., while still having an expected 300+ mile range estimation.
Don't let those impressive stats make you forget that adventure side of this high-tech truck powerhouse. It can also wade in 3 feet of water. Not that you should treat it like a canoe, but if you need one, it has plenty of space for one of those, too.
Rivian has designed this truck to get the best use of every inch of the R1T. With an 11 cubic foot front trunk and the traditional bed with a 51.1 in. width and 83.6 in length when the tailgate is down, the R1T has plenty of space. Additionally, it has what is referred to as a "Gear Tunnel" which is a hollow space between the truck bed and cab.
This spot is for the extra messy gear that you don't want in the already rugged and muck-resistant cabin.
This adventure vehicle isn't cheap, though. The lowest trim starts at $67,500, but deliveries are slated to begin in January 2022, just in time for some spring adventures.
GMC Hummer EV specs, price, release date
GM's first commercially available foray into the Electric Truck market makes a big splash.
The company has reignited the dormant Hummer brand to carry the company into the future. Fondly remembered for its incredible off-road capability and versatility, the Hummer was a jewel in GM's crown for a long time. However, the relatively underwhelming fuel economy really held the vehicle back.
It's fitting then, that the Hummer is revived to be the first all-electric truck offering from GM.
The Hummer EV delivers 0-60 mph in 3 seconds, up to 11,500lb-ft torque, and an estimated range of 350+ miles. Hummer EV offers fast charging capability with an up to 350kw 800V DC Fast Charging that delivers nearly 100 miles in range for 10 minutes of charging.
That's not the only interesting innovation. The "crab-walking" feature makes the Hummer EV unique. Its rear wheels can turn up to 10 degrees in either direction, which allows the vehicle to nimbly navigate treacherous terrain or parallel park with ease.
There is an available Extract Mode that uses the Adaptive Air Ride Suspension to raise nearly half afoot. This could be useful when forging ahead through water or crawling over boulders.
The design of the Hummer echoes back to the Hummer H2 which unveiled in 2002. With all the Hummer brand appeal and updated designs and tech improvements, this is the electric truck that leaves many drooling.
The lowest range model starts at $79,995 and the highest level will cost right at $100,000 to start, but that price tag still packs some serious value.
Ford F-150 Lightning specs, price, release date
The most recent electric truck to be announced on the list, the Ford F-150 Lightning Ford F-150 Lightning is also the least impressive visually, but that certainly doesn't mean this electric truck disappoints or underperforms.
The extended range version offers 0-60 mph acceleration between 4 to 5 seconds, a maximum of 10,000 lbs in towing capacity, and a targeted EPA estimated range of 300 miles on the extended range battery.
Instead of looking for mind-blowing innovation, Ford opted to stay in its lane and delivered what the best Selling F-150 series is well known as: a work truck.
Ford leaned into the practicality and usefulness of a rolling battery, and in doing so have developed a "Mega Power Frunk". This means that the front trunk contains 4 120v outlets to add to the additional outlets in the cab and bed of the truck, which in total can deliver 9.6kW of exportable power.
Talk about powering any job site or tailgating event. But all that power isn't just relegated to the tasks at hand. Ford developed its Ford Intelligent Backup Power system. Providing that the home is properly equipped, the F-150 Lightning can act as a generator and supply full home power for 3 days. If you ration the use, it could last up to 10 days.
These practical uses of the F-150 Lightning and its MSRP of $39,974, make Ford's electric truck very appealing for commercial use. However, with the additional options and add ons available, the F-150 can reach up to $90,474. So it certainly isn't lacking in available upgrades.
With all four of these electric trucks bringing serious value to the table, consumers in the market to make the change to an EV won't have to grapple with whether or not they need an electric truck (you do), but rather which one should they buy and what are running costs for maintaining it.
After all, the decision may leave you feeling a little shocked.