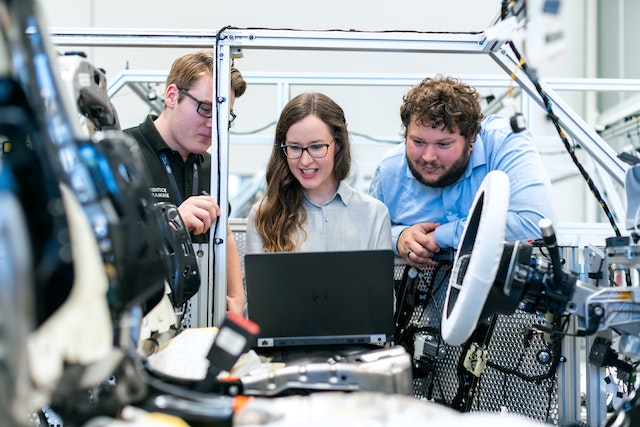 Nostalgia is a powerful feeling that, unfortunately, tends to cloud reality. You've likely heard at least one person say wistfully, "They don't build them like they used to." Many products are just designed with planned obsolescence today, and few goods truly seem "overbuilt" anymore.
In regards to car safety, however, 2023 marks a new golden age, as the solidly-built, inflexible, all-steel cars of yesteryear ironically do much less to protect their occupants than just about any vehicle built in the last ten years. In reality, the safest cars to drive are those from the current generation.
What Is Considered a Safe Car?
As new safety features emerge with each successive generation, the definition of what qualifies as being amongst "the safest cars to drive" changes. That being said, car safety can be described as a combination of passive and active systems that cover the following:
A. Reducing or eliminating harm to those inside the vehicle and anyone struck by it B. Assisting in avoiding accidents in the first place
Passive Safety Systems
Passive systems are those that protect occupants during accidents instead of preventing them. They include the following:
1. Seat Belts
While they became mandatory in 1968, seat belts underwent many revisions before arriving at their modern form as a three-point restraint. Regardless, they are perhaps any car's most important life-saving safety features, saving nearly 375,000 lives since 1975.
2. Airbags
Airbags became widespread features in the late 1980s and became mandatory in 1998. Frontal airbags were the first to become common, followed by passenger airbags. More recently, side curtain airbags have gone from being exclusive to luxury cars to becoming standard equipment in many mainstream passenger vehicles.
3. Daytime Running Lights
Daytime running lights (DRLs) were developed in the 1990s to improve daytime visibility. A study by the Mayo Clinic in 2010 used crash data from the Minnesota Department of Transportation (MNDOT) to demonstrate that vehicles without DRLs experienced 1.73 times the number of accidents than those with them.
Active Safety Systems
As for active safety features, these are the systems that work to prevent accidents from occurring in the first place, such as:
1. Stability Control and Traction Control
To keep from losing grip, modern cars will automatically apply the brakes thanks to stability control, which has been mandatory since 2011. Traction control keeps the drive wheels from breaking traction, usually by reducing throttle.
2. Backup Cameras
Required in all new vehicles as of 2018, backup cameras provide a much clearer view when moving in reverse. Many vehicles also come with 360-degree top-down views for extra visibility as well.
3. Blind Spot Monitoring and Lane Departure Warning/Assist
With cameras and sensors watching areas mirrors may not easily cover, many modern cars will sound alarms and even take control of the steering wheel to prevent drivers from moving into occupied lanes.
4. Driver Assistance and Autonomous Driving
With computer controls becoming commonplace and highly capable, cars are becoming more autonomous. True "self-driving" cars are not on the roads yet, but many now feature systems that can steer, brake, and accelerate with no direct driver input. More advanced systems can even change lanes and follow GPS directions.
Who Rates Safety?
For more than 50 years, the National Highway Traffic Safety Administration (NHTSA) has been responsible for improving automobile safety and enforcing safety standards. Their 5-Star Safety Rating System is an excellent way to gauge which vehicles the administration has tested and considers the safest.
The Insurance Institute for Highway Safety (IIHS) is an independent, nonprofit organization that researches and evaluates car safety. Its most important efforts began in 1992 with the introduction of the Vehicle Research Center facility, in which the IIHS conducts safety tests to establish its Top Safety Pick and Top Safety Pick+ designations.
What Is the Process for Rating Car Safety?
The NHTSA and IIHS subject vehicles to various crash tests, though the latter's rating considers a vehicle's crash avoidance systems to arrive at a final rating.
The NHTSA crash tests are as follows:
Frontal Crash Test
Side Barrier Crash Test
Side Pole Crash Test
Rollover Resistance Test
Depending on the results, the NHTSA will award a vehicle anywhere from one to five stars, with five being the best.
The IIHS crash tests include the following:
Small Overlap Front: Driver Side
Small Overlap Front: Passenger Side
Moderate Overlap Front: Original Test
Side: Original Test
Side: Updated Test
In addition, the IIHS also analyzes front-crash avoidance systems during daytime and nighttime conditions. The organization also factors other features, such as child seat latches, seat belt alerts, and headlight intensity. Their ratings go from Good, Acceptable, Marginal, and Poor.
What Are the Safest Cars to Drive in 2023?
The safest cars to drive from various categories, from small cars to large pickup trucks, are as follows:
1. Small Cars - 2023 Acura Integra
NHTSA Rating: 5 Stars
IIHS Rating: Top Safety Pick+
With universal praise for its safety, the 2023 Acura Integra boasts top ratings from every crash test and is the only small car of 2023 to receive an IIHS Top Safety Pick+. The only nits to pick come from the IIHS itself, which dinged the Integra for its less-than-stellar standard LED lights and quiet seat belt reminder warning.
2. Midsize Cars - 2023 Toyota Camry
NHTSA Rating: 5 Stars
IIHS Rating: Top Safety Pick+
The IIHS awarded Top Safety Pick+ honors to the four-door Honda Accord sedan and the Subaru Outback Wagon. Still, only the Toyota Camry achieved five stars across the board from the NHTSA. However, the IIHS rating only applies to Camrys built after January 2023, as vehicles built since then carry improved side sill structures for better impact protection. The IIHS also had concerns about their dummy moving too easily toward the gap between the side curtain and frontal airbags.
3. Midsize Luxury Cars - 2023 Mercedes-Benz C-Class
IIHS Rating: Top Safety Pick+
Though the Mercedes C-Class has not received a crash test rating from the NHTSA, its Top Safety Pick+ status from the IIHS shows it is among the safest cars to drive. Its crashworthiness is excellent across the board, though the best vehicle-to-pedestrian ratings are reserved for models with the optional Driver Assistance package.
4. Large Luxury Cars - 2023 Genesis G90
IIHS Rating: Top Safety Pick+
The IIHS gives high marks to the G90 for its crashworthiness and active safety systems. The only complaint regards the LED headlights, which the IIHS claims lack sufficient brightness for some curves on their test track.
5. Small SUVs - 2023 Honda HR-V
NHTSA Rating: 5 Stars
IIHS Rating: Top Safety Pick+
The only small SUV to receive an IIHS Top Safety Pick+, the Honda HR-V also scored the highest in the NHTSA's crash tests, being awarded a five-star overall rating. IIHS complaints, however, include sub-optimal headlights and hard-to-find child seat anchors.
6. Midsize SUVs - 2023 Kia Telluride
NHTSA Rating: 4 Stars
IIHS Rating: Top Safety Pick+
Despite its four-star rating from the NHTSA, the Kia Telluride achieved superior ratings in every category from the IIHS. From crashworthiness to child seat anchors to crash avoidance systems, there were no IIHS complaints, as 2023 models received new side airbags in the front and rear and new structural improvements.
7. Large SUVs - 2023 Audi Q8
NHTSA Rating: 5 Stars
IIHS Rating: Top Safety Pick+
The Audi Q8 scored excellently in all of the IIHS's tests except the one for headlights, in which it only achieved an Acceptable rating due to its poor low-beam performance. The NHTSA gave it a five-star overall rating but four-star ratings for its rollover and front driver-side crash performance.
8. Minivans - 2023 Honda Odyssey
NHTSA Rating: 5 Stars
IIHS Rating: Top Safety Pick+
Even a four-star rollover rating can't bring down the otherwise five-star performance of the Honda Odyssey in the NHTSA's crash tests. The IIHS, however, criticized the Odyssey's headlights as suboptimal and offered a Poor rating for its seat belt reminders, which they claim are too quiet and don't last long enough.
9. Large Pickups - 2023 Toyota Tundra Crew Cab
NHTSA Rating: 5 Stars
IIHS Rating: Top Safety Pick+
Though its mid-tier, front vehicle-to-pedestrian crash avoidance and acceptable standard headlights made the Tundra just miss the highest possible IIHS scores, it's still a Top Safety Pick+, and it did achieve an overall five-star rating from the NHTSA, with its only flaw being a four-star rollover rating.
Points to Consider When Purchasing
Unfortunately, safety isn't the only concern when buying a new vehicle. You'll also have to consider the following:
1. Your Budget
You need to ask yourself, "What are the safest cars to drive that I can afford?" If a 2023 model is too expensive, you may have to purchase a used one.
2. Reliability
A safe car isn't necessarily a reliable car or one that's cheap to fix.
3. How It Drives
You may find a wonderfully safe, reliable vehicle, but if it drives poorly or has terrible ergonomics and comfort, you will want to pass, so test drive any vehicle you're considering.
Your Car Protects You. Protect Your Car with CarShield!
Even the safest cars to drive can experience breakdowns and part failures, and when they happen, you don't want to be left with a massive repair bill. Get protection through CarShield with a vehicle service plan to take your car to the shop and fix it worry-free. Contact CarShield and find the right plan for you today!